High Quality Research Conditions and Living Benefits
Broad Opportunities for Academic Exchange and Cooperation
Comprehensive Management Services and Policy Support
Frontier Research and Development Topics and Major Projects
Postdoctoral Research Work

Bready Advanced Materials Postdoctoral Research Workstation was approved by Ministry of Human Resources and Social Security and National Postdoctoral Management Committee in October 2022 for establishment and preparation, and cooperated with domestic and foreign universities such as Nanjing University and Southeast University in industry, academia, and research.
Bready Advanced Materials attaches great importance to the construction of postdoctoral research workstations and the cultivation and use of postdoctoral students, and has formulated a series of management systems and supporting policies. Bready Advanced Materials Postdoctoral Research Workstation is committed to providing a superior research environment and development platform for postdoctoral students, and cultivating high-level innovative talents. Research directions include the synthesis and modification of polymer materials, the preparation of functional thin film materials, the preparation and improvement of nano fluorescent materials, and optical design. The company's products are widely used in fields such as semiconductor displays, ultra-high frequency communication, and new energy, with good market prospects and social benefits.
We welcome outstanding doctoral graduates who aspire to engage in research on polymer materials, nanofluorescent materials, and optical design to join our team, which is now open to postdoctoral researchers nationwide. We will provide competitive salary and benefits, a comprehensive welfare system, abundant scientific research resources, and broad career development space.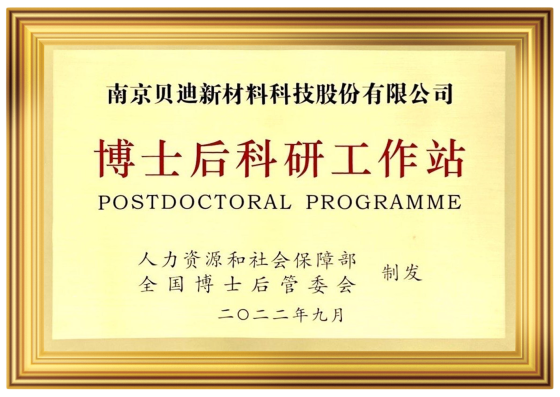 How to join postdoctoral research work?

Applicants should meet following conditions:
◆ Having a doctoral degree in polymer materials, nanomaterials, chemistry, physics, materials science, optics, and other related majors;
◆ Having a doctoral degree in polymer materials, nanomaterials, chemistry, physics, materials science, optics, and other related majors;
◆ Having good communication skills and teamwork spirit, able to actively participate in academic exchanges and cooperation both domestically and internationally;
◆ Has Published relevant papers in internationally authoritative journals, or obtained relevant patents or awards;
◆Being able to engage in full-time postdoctoral research work and promise to work at workstations for no less than two years;
Interested parties please send personal resume, academic transcripts, doctoral thesis abstracts, representative papers, and other supporting materials to the email address: hr@bready.cn
Email subject: Name+Major+Postdoctoral. We will arrange appraisal interview as soon as possible.
Resume Screening
Resume can help us to have a basic knowledge of the candidate, please highlight your achievements on research directions/scientific research projects/ innovation topics.
Interview Communication
You can fully demonstrate your professional knowledge, problem-solving abilities, and ambition to change the world with technology, through face-to-face communication with technician or chief operating officer.
Employment Decision
You will be notified as soon as possible on the recruitment result after a comprehensive evaluation by the professional recruitment team.
Resume can be sent to email