Another international brand releases Mini LED TV
"Using cash technology to change image quality, sound quality, and design, we aim to create an advanced sensory world through next-generation audio and visual experiences, showcasing the beauty of everything in the world."
On June 1st, Sharp held a grand online advanced product launch event, officially releasing its latest high-end flagship TV, Sharp AQUOS XLED.
The AQUOS brand has been born for 21 years and has always been synonymous with Sharp's cutting-edge technology. It possesses the vast majority of industry advanced technologies such as LCD and Mini LED, and has launched numerous epoch-making products. AQUOS has always been favored by global users for its large size, ultimate sound and graphics, and exquisite appearance, while the Sharp AQUOS XLED series will be a brand new flagship product.
As the "Protagonist" of this press conference, Sharp AQUOS XLED has reached an advanced height in image quality, sound quality, performance, design, and other aspects of Sharp TV, and is currently the most cutting-edge product of Sharp 4K TV. With the next-generation large screen display technology XLED, it is bound to attract users back to the living room, achieving C-position responsibility.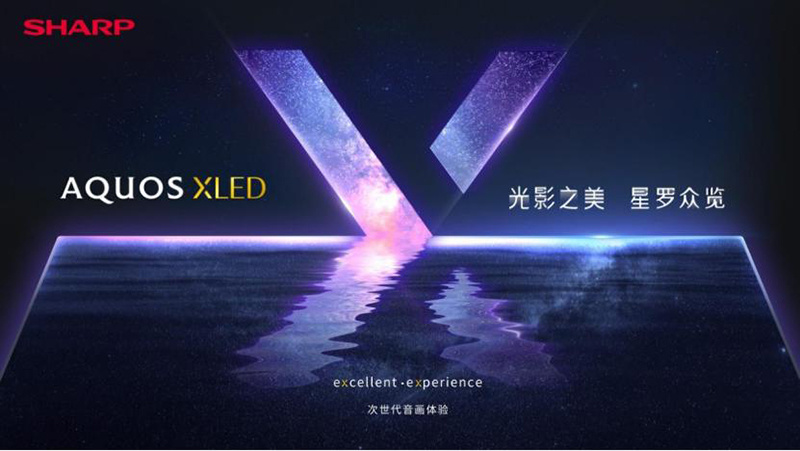 Next Generation Large Screen Display Technology XLED
Sharp combines excellent liquid crystal display technology with active Mini LED, and adopts Advanced Bready quantum dot wide color gamut and Flare Brightness shining technology, creating the next-generation large screen display technology AQUOS XLED. Sharp AQUOS XLED is a next-generation smart screen that can achieve higher resolution, brightness, contrast, and wide color gamut. It is a flagship product that can bring people back to the living room and enjoy stunning audio and video.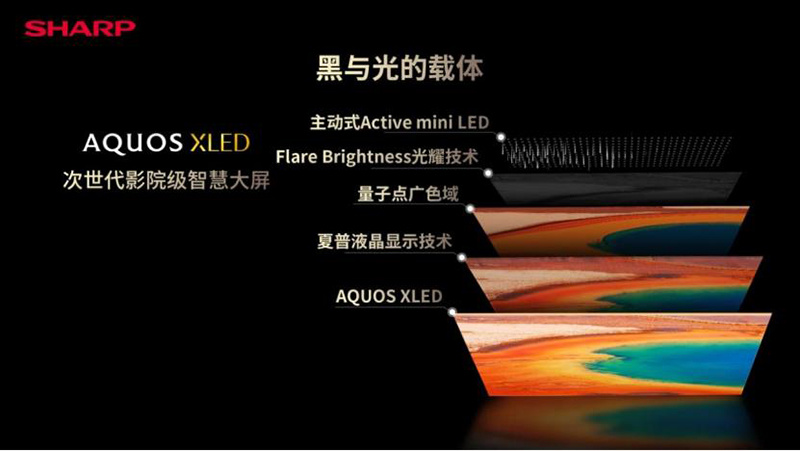 Driven by active Active Mini LED technology, AQUOS XLED has achieved a 3-fold increase in peak brightness compared to traditional LCD TVs, with a maximum of 1800nits. Even in extremely dark conditions, the scenery can be clearly presented. And under Sharp's solution, the 2160 backlight partition will be perfectly driven. The all-advanced Sharp quantum dot wide color gamut technology can restore the purest red, green, and blue primary colors of nature, bringing real beauty to your eyes.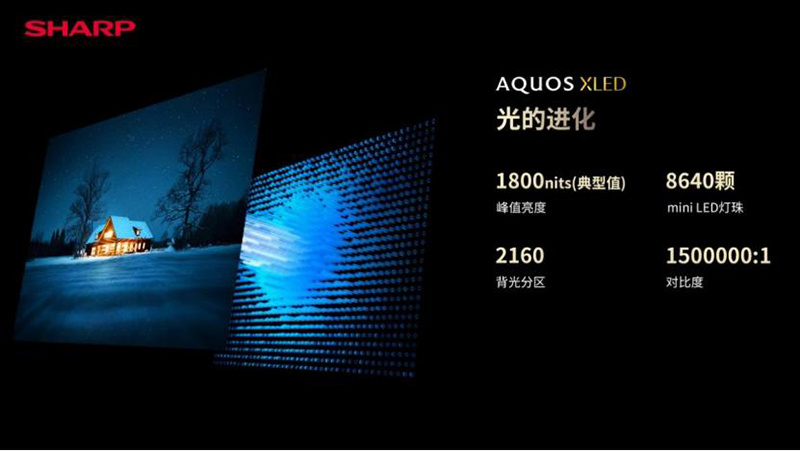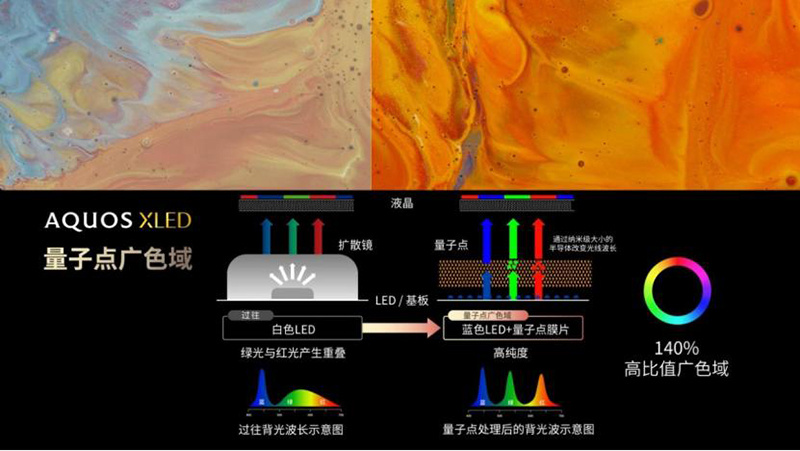 Relying on technological innovation and continuous breakthroughs, AQUOS XLED is equipped with the advanced Flare Brightness technology to analyze and process the brightness of adjacent areas, making the junction between dark and bright fields pure and clear, making the dark field dark and bright white dazzling.Combined with the N-Black low reflection panel, not only can we achieve a more extreme visual presentation effect, but also allow users to enjoy the new viewing experience brought by Sharp's cutting-edge technology.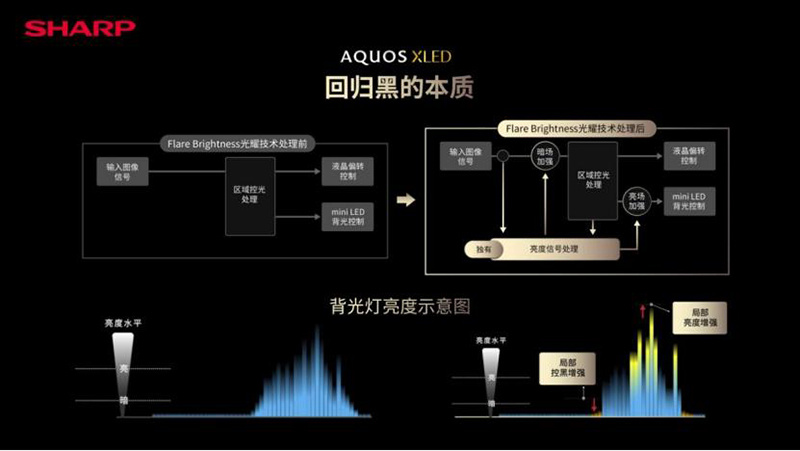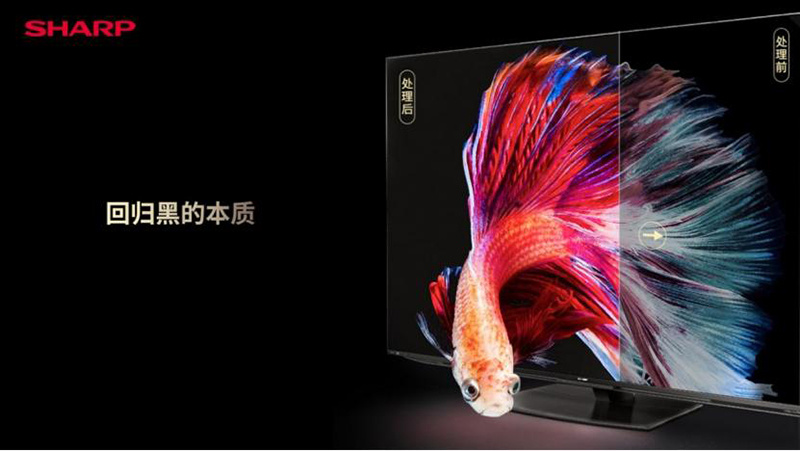 To ensure image quality performance, an advanced generation Meidali S2X chip is equipped, which uses OP technology (Object Profiling) to analyze images and brightness signals in real-time, automatically restoring image texture, and restoring a more realistic picture for viewers.
Not only that, the Sharp AQUOS XLED comes standard with a full channel 120Hz, supporting 120Hz high refresh rate, 120Hz MEMC motion compensation, and 120Hz chip resolution, making the frame count clear and not stuck. The existence of the 120Hz HDMI2.1 interface can easily handle even external device input images.