---
"Zizhi - Film New Material network" research and development of double-sided flexible ultra-thin light conductive film, this film has won new investors!
---
On January 25, 2018, the industrial and commercial information of Nanjing Bedi Electronics Co., LTD., a developer of optical film materials for display, was changed, and the investors added Shenzhen Anda No. 2 Venture Capital Partnership (limited partnership) and Ningbo Anda Xinsheng Equity Investment Partnership (limited partnership), both of which are investment entities of Anda Capital.
See the picture below for details

Source: enterprise check
Before that, the company has completed four rounds of financing, and its investors include Yongxin Asset, Jiangning Technology Venture Capital, Nanjing New Valley Investment Management Co., LTD., Yida Capital, Hubei Liuzhao Investment Management Center (limited Partnership), etc.
Nanjing Bedi Electronics Co., Ltd. was officially settled in Jiangning Gaoxin Park in 2015, the headquarters plant area of 18,000 square meters, at the same time has Zhuhai Komi Photoelectric Co., LTD., Yantai Jiufu Photoelectric Technology Co., LTD., Taicang Zhonghong Photoelectric Co., LTD and other wholly-owned subsidiaries, and set up production research centers and offices in the United States, Mexico, Japan, South Korea.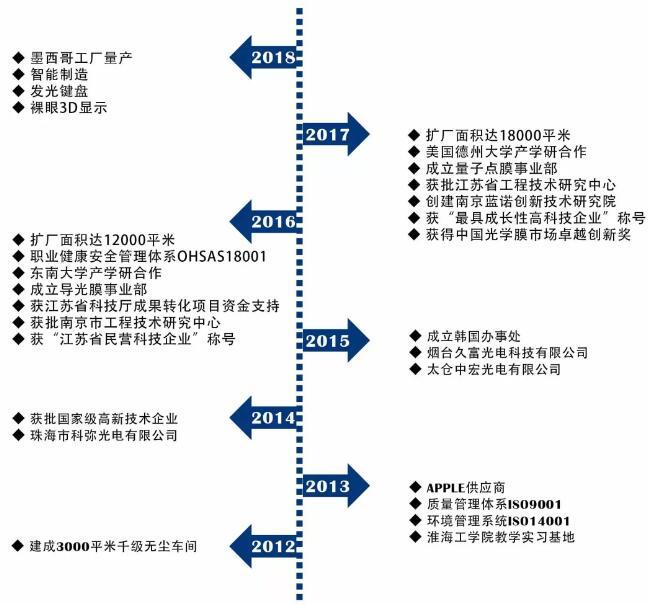 Development history (Source: Nanjing Bedi official website)
The company is committed to producing optical film materials for display, including reflection film, diffusion film, prism film, conductive tape, light film, etc. The main customers are LGD, Hisense, Xiaomi, Apple, BOE, Samsung, Microsoft, Sharp and other companies.
The company introduces and transforms the cash optical film technology from Japan, combined with the advanced technology in optics, materials and other fields of Southeast University, University of Texas at Dallas, has developed the automatic line production technology of double-sided flexible ultra-thin light guide film.
According to the introduction, the production technology can improve the quality of light guide film from the size, appearance and optical characteristics, the company's self-developed light guide film product thickness is only 0.08mm.
According to the introduction, light guide film is mainly used for liquid crystal display (LCD) devices, as the key component of its luminescence component backlight module (less than 0.4mm is the light guide film), used to guide the direction of light travel, line light source or point light source into uniform surface light source.
Compared with similar products, the company has the advantages of larger lighting area, thinner overall shape, higher lighting brightness, lower cost, lower power consumption, more flexible surface and simpler manufacturing process.
At present, in terms of the company team, Chairman Liu Yong is honorary professor of Huaihai Institute of Technology, director of Nanjing Young Entrepreneurs Association, national "Ten thousand people Plan" innovation and entrepreneurship talent, and used to be the chairman of Nanjing Bemeike Biotechnology Co., LTD., with 21 patents for inventions and utility models.
Source: Pencil Trail
  ——————————————————————————————————
Pencil track

Pencil Road belongs to Beijing Chuangba baby Information Technology Co., LTD., founded on August 11, 2015, is an entrepreneurial vertical media focusing on reporting entrepreneurs who have raised money, are raising money and want to raise money. It is committed to doing real reports, not selling advertorials, not selling advertising, not writing haven, journalists are not allowed to collect any fees, and the media application announcing the real amount of financing in China.
---